James Lundquist
James Lundquist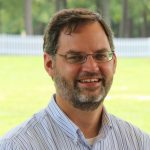 James Lundquist has been a husband for twenty seven years and is the father of fourteen children. He helps lead Sovereign Redeemer Community Church right here in Youngsville.
James' topic was "Where Has Real Christianity Gone?"
How can it be that a strong majority of Americans claim Christianity, yet our cultural trajectory is speeding in exactly the opposite direction from what Christians have believed and how they have lived for most of the last two thousand years? Can this be genuine Christianity, or just a flimsy substitute, and if it isn't authentic, how can we recover the real thing?